You have arrived at the online companion to KHJ Los Angeles: Boss Radio Forever by Woody Goulart available as a Kindle eBook (updated January 2023) exclusively from Amazon. The paperback book (as shown) is out of print.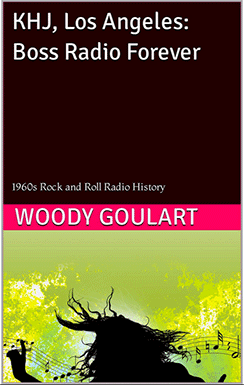 ---
Starting in a Small Market
Since I was born and grew up in San Luis Obispo, CA, my first contact with the radio industry was at the small market level. In 1968 during my senior year in high school I was asked to read news and sports on a Saturday morning show on KSLY (AM), the local rock and roll radio station at that time. That was an unpaid gig, but I will always remember that as a very important first step for me into the radio industry.
I was motivated to seek a career in the radio broadcasting business because of an on-air personality in my home town. He went by the name Mac the Scotch Hillbilly and was heard on local AM radio stations KATY and KVEC.
My focus during college was journalism, reporting/editing, and news production. My first paid commercial radio experience was in San Luis Obispo at KVEC. Of central important to my radio industry work was my college radio KCPR experience in San Luis Obispo while I was in the journalism degree program at Cal Poly.
Major Market Experience
The high point of my radio industry work was in Los Angeles. My transition from small-market into major-market radio is the subject of my book. It previoiusly was available as a paperback book (pictured) but that is out of print nowadays. However, it continues to be available as a Kindle eBook exclusively from Amazon. This book enabled me to detail the personal and professional growth I had on the way towards eventual redefinition and rebranding of myself as I left the radio industry due to the inherent financial risks of maintaining a permanent career there.
Small Market Rides Again
In the 1970s, I worked part-time at local radio stations to have some extra beer money during my master's degree program at Humboldt State University where I studied and wrote about rock and roll radio. The local radio stations where I was on the air were KFMI (FM) in Eureka and KNCR (AM) in Fortuna.
Also during that decade, I worked part-time to have some extra beer money during my doctoral degree program at Indiana University. Notice any pattern here regarding beer? The station, WBWB (FM), was a semi-automated station in Bloomington, IN.
My last radio industry work was during the 1990s. That had nothing to do with beer money at all. It was more about my having the chance to live in the desert and to get away with wearing cowboy boots at work: I was employed full-time in country music radio. At long last, I had followed the lead of my career inspiration, Mac the Scotch Hillbilly from San Luis Obispo radio four decades early. In the 1990s I made a living in advertising sales and production in Arizona at KFLG (FM) in Bullhead City.
---
Boss Radio Links:
Boss Radio Forever (main page)
Archives of Boss Radio Forever
College Radio KCPR
Gallery of Photographs
Hollywood Rock and Roll Radio
KHJ Music
KHJ Timeline
My Work in the Radio Industry
Studying Radio
Back to top of page.