Vegas Woody is Woody Goulart. He lives within the city limits of Las Vegas, Nevada. He is many things—blogger, coach, consultant, digital artist, photographer, podcaster, trainer and writer.
Podcast from Las Vegas:
Customized Male Character Art
for Business and Commercial Use:
Photography in Las Vegas: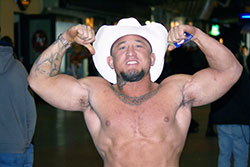 Everyone knows about the famous neon cowboy in Las Vegas. But would you be surprised to see and meet real cowboys at the Fremont Street Experience?
Sci-Fi Time Travel Adventure